Hi guys,

Today I have a beautiful holographic nail polish from Colors By Llarowe called High School Was Rough Man (gotta love that name), I've been seeing pics of their polishes forever and I was super excited to finally get my hands on some.

For these pics I only did 2 coats and no top coat, the color is a bit greener in real life but my camera refused to get it together and take a decent picture to do it justice.


Hi Guys,

I have the second polish from the Bliss Polish spring collection today, this is a neon yellow creme, it's a really bright but not highlighter bright polish, which only makes it even prettier.

The application was a bit tricky, it's on the thick side you it makes it streaky in the first 2 coats but it can be evened out with a third one, I did thicker coats and it didn't take that long to dry but I still wish the formula was a bit easier to work with.

Anyways, on to the pics:

Powered by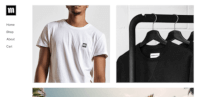 Create your own unique website with customizable templates.